Delightful design, smart technology, future-friendly efficiency… we'll help you create a place in the world that you're proud to show off, and where you can be you.
Plus a brand new line of exciting custom colors.
iio Retro Series
Chic, luxury, no-compromise — this is the iio Retro Series. With stunning colors, innovative features, chrome flourishes, perfectly sized retro refrigerators for the smart home.
iio Retro-Mod Series
The iio Retro-Mod Series offers a future-friendly blend of nostalgic design and modern angles, packed with the latest technology.
iio Vintage Series
We've reinvented 1950's California styling for an energy-efficient future. The iio Vintage Series boasts classic curves, 5" thick doors, and a gorgeous coastal color palette.
iio Fun Series
Now, cool can fit into any space with the iio Fun Series. Stylish design, energy efficiency and space-saving features are all here in our narrowest retro refrigerator
iio Custom Series
The iio Custom Series is for those who can't compromise on style. With a plethora of available colors and an infinite number of possible designs, the iio Custom Series is a made-to-order masterpiece.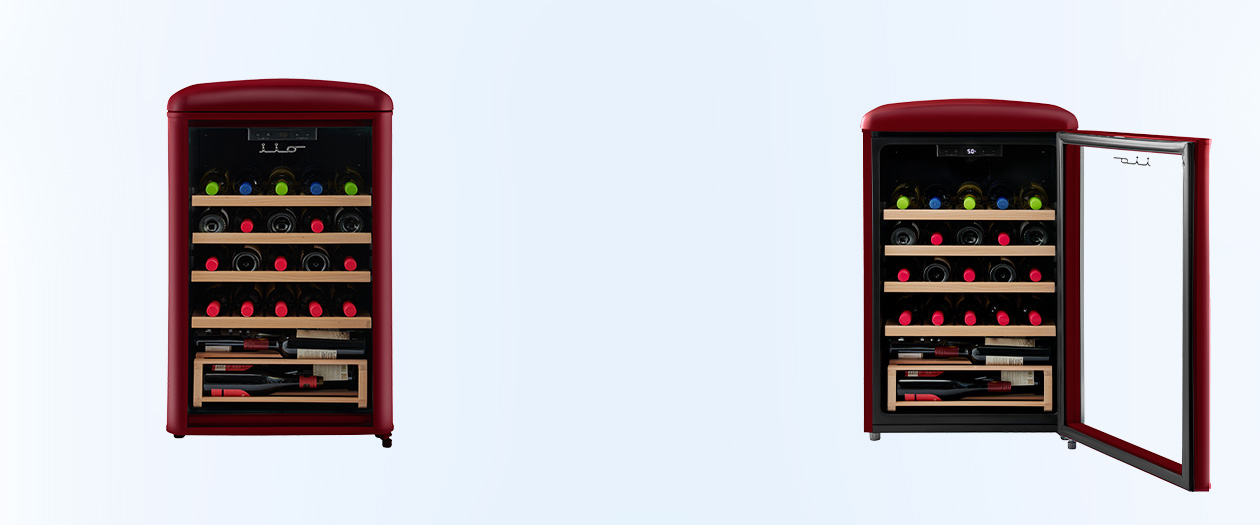 iio Wine Series
Retro-styled, elegant and affordable wine storage in a variety of stunning colors that are designed to turn your space into your place.
iio Key Features
Left or right hinge flexibility
Most appliances are designed for right-handed people. Not iio. We design our refrigerators to fit your space and your style, which is why our doors open with either right or left-hand hinges. This ultimate flexibility means you can position your iio wherever it's most convenient.
50's vintage styling
Formed from a single sheet of steel, the beauty of this seamless curved cabinet will impress every time. It's iconic 5" thick door enables deeper and more functional storage, with four adjustable shelves.
Only 57″ tall
The popular iio FF1 brings retro styling to any space. One of its many features is that it only stands a mere 57 inches in height.
When we renovated, I wanted a kitchen that finally reflected my tastes – not just some plain gray stainless steel appliances. I wanted color and some real style – without giving up on energy efficiency. I love my iio. It's the first thing everyone notices.
Parts & Accessories
All iio appliances are built to last. Need a new drawer, shelf, filter or light? We offer a full range of parts and accessories.